SBA 7(a) Loan Checklist: Getting Ready to Apply
Between growing business, putting out fires, and trying to squeeze in some sleep (remember that?) you also have to magically conjure up the time to prepare to apply for your SBA loan, too. Don't let important details get lost in the shuffle. Use our PDF checklist as your personal assistant, and stay
Start Your Application and Unlock the Power of Choice
$5.6M

offered by

a Bank

at

6.1%
$1.2M

offered by

a Bank

at

6.0%
$2M

offered by

an Agency

at

5.6%
$1.4M

offered by

an SBA Lender

at

9%
Click Here to Get Quotes!
[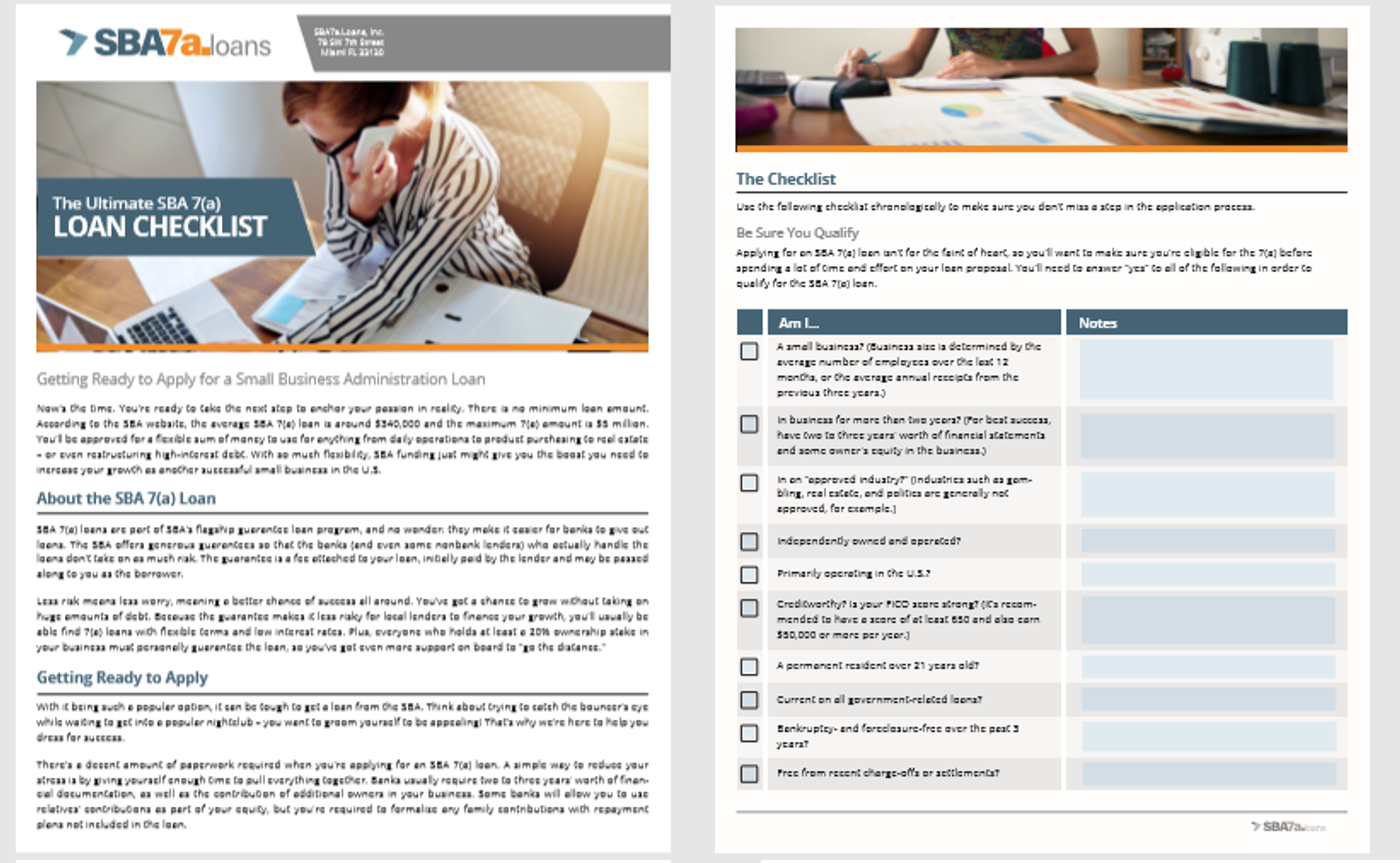 ](/s/SBA7a-loan-application-checklist.pdf)
If you're the type of small business owner who can't move forward without a solid checklist to collect your thoughts, we've designed the ultimate tool for you. We know applying for an SBA 7(a) loan can be an arduous process.
Between growing business, putting out fires, and trying to squeeze in some sleep (remember that thing you used to get?) you also have to magically conjure up the time to prepare to apply for your SBA loan, too. Don't let important details get lost in the shuffle. Use our PDF checklist as your personal assistant, and stay on task from start to finish.
Download the SBA 7(a) Loan Checklist
To learn more about SBA 7(a) loans or to get a free quote, simply click the button below to connect with us!
Related Questions
What are the eligibility requirements for an SBA 7(a) loan?

The eligibility requirements for an SBA 7(a) loan include:

The business must meet the SBA's size standards for its particular industry.
The business must have fewer than 500 employees and less than $7.5 million in revenue each year for the previous three years.
The business must physically be based in the U.S. and operate within the U.S. and its territories.
The business must operate for profit.
Business owners must first have used other sources of financing, including personal funds, in order to qualify.
Businesses must not be involved in lending, real estate, or speculation.
Your business must operate for profit. Nonprofits and not-for-profit businesses are not eligible.
You must also have some equity in the business — this could mean you already have a profitable business, or you could use your own personal equity as collateral.
If you have any alternative financial resources, you must have used them first. For example, if you have a personal savings account or are able to get a personal loan, then you must first pursue those options before applying for an SBA 7(a) loan.
The business owner cannot be on parole.
You must be doing business in the U.S. or its territories.

What documents do I need to apply for an SBA 7(a) loan?

To apply for an SBA 7(a) loan, you will need to provide the following documents:

SBA Form 1919 (borrower information form)
SBA Form 912 (statement of personal history)
SBA Form 413 (personal financial statement)
Financial statements, including a balance sheet, profit and loss, and income projection
Agreement to purchase the business
Letter of intent to buy the business
Business tax returns for the past three years
Any outstanding business debt
Long-term business contracts
Documentation of business assets
Business lease agreement
Incorporation documents and/or business license
Business plan

In addition, the SBA will usually order an independent business appraisal to give lenders an idea of what the true value of the business is.

The SBA allows applicants to get help (for example, from a lawyer or a translator) filling out the application paperwork, but your lender will be required to submit information about who gave you help to the SBA, so you'll need to document who this person is as well.

What is the maximum loan amount for an SBA 7(a) loan?

What is the interest rate for an SBA 7(a) loan?

The interest rate for an SBA 7(a) loan depends on the amount of the loan and the maturity of the loan. For loans with a maturity of less than 7 years, the interest rate is the Wall Street Journal Prime Rate plus 4.25% for loans of $25,000 or less, 3.25% for loans between $25,001 and $50,000, and 2.25% for loans of $50,001 and up. For loans with a maturity of more than 7 years, the interest rate is the Wall Street Journal Prime Rate plus 4.75% for loans of $25,000 or less, 3.75% for loans between $25,001 and $50,000, and 2.75% for loans of $50,001 and up. The current Wall Street Journal Prime Rate is 8% as of May 2023.

What is the repayment term for an SBA 7(a) loan?

The repayment term for an SBA 7(a) loan depends on the type of loan. For commercial real estate loans, the repayment term is up to 25 years. For equipment loans, the repayment term is up to 10 years. For working capital loans, the repayment term is also up to 10 years.

Learn more: Understanding How the SBA Guarantees Loans