Business Mortgages for Motels: A Primer
The SBA 7(a) loan can be used to buy real estate and land, like a motel. Lenders have traditionally seen motels as higher risk than other real estate and land borrowers, especially hotels. Compared to hotels, motels usually aren't as profitable, are often unbranded or unaffiliated, and can be situated on lower-value plots.
Still, motels can be very profitable, and lenders that recognize this might offer the SBA 7(a) loan. A dedicated owner with a good credit score and enough money down is likely to qualify.
SBA 7(a) or SBA 504 for Motels: Which Is Right for Me?
The SBA 504 loan is a larger, government-backed loan that's similar to the SBA 7(a). This loan is offered through a Certified Development Company (CDC) rather than a bank or traditional lending institution.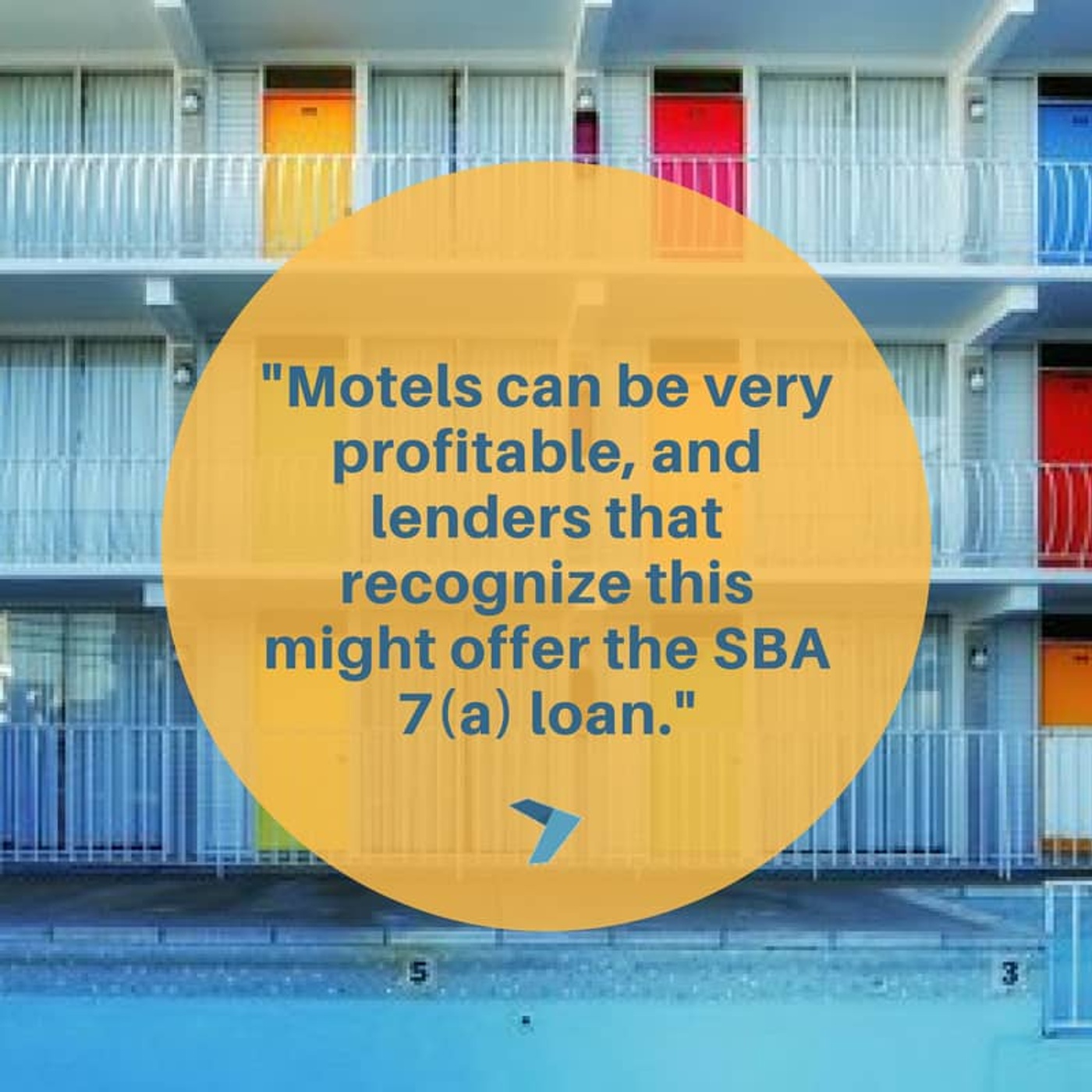 The SBA 504 can't be used for working capital, but can be used for some of the same purposes as the SBA 7(a). The SBA 504 is often used to buy land or real estate, and it's a great option for financing a motel purchase. Financing rates for purchasing motels are the same as for any other industry. 
Compared to the SBA 7(a) loan, the SBA 504:
is a larger loan, with a minimum of $125,000 and a maximum of $20 million;

has a fixed interest rate;

has a 20-year maturity rate for real estate and land; and

requires a 10% borrower down payment.
The SBA 504 loan is typically used with a commercial loan from a traditional lender, like a bank or credit union. The costs are split between the loans, and the SBA can guarantee an amount that's more beneficial to itself, the lender, and the borrower.
Learn More:  A Comparison of Eight Types of SBA Loans
More Information on the SBA 7(a) Loan
The SBA 7(a) is a versatile loan that's designed to get you the capital needed for your small business. If you've been looking for a way to fund your motel, consider this kind of loan.
Using an SBA 7(a) Loan for Start-Ups
Find more information about how the SBA 7(a) loan can be used for common startup costs in all industries. 
How to Qualify and Apply for an SBA 7(a) Loan
Good bookkeeping, understanding your creditworthiness, and a solid business plan can all help you when applying for your loan. But, as with any loan, a borrower must meet certain standards to qualify.
SBA 7(a) Loan Terms
See how much you can borrow, loan maturity, fees, and more. 
Want Personalized Guidance?
At SBA7a.Loans, we live and breathe the SBA 7(a) loan process. We match business owners like you with the best lender for your situation, even if it means that we have to look outside of the SBA 7(a) platform. We serve our customers by 1) offering a free educational portal, and 2) leveraging our lender-matching service to help you on your way to success. We have a deep love of American small businesses, and we believe it shows in our customer-first attitude.
To learn more about the SBA 7(a) loan program and get a free quote, simply fill out the form below and one of our friendly SBA loan experts will get in touch!